An essay by Ellyn Patterson, as provided by Finale Doshi-Velez
Art by Leigh Legler
---
As the science of genetic engineering nears maturity, our understanding of the psychological repercussions of commonplace genetic modifications remains woefully understudied. Below I share an excerpt from a diary of a client who visited me 15 years after conception with the simple yet impossible question: Why? The pages below are shared with the consent of the parents and child and with the approval of the internal review board of General Gene Centers, Incorporated. Names have been changed to protect the privacy of the individuals.
–        Ellyn Patterson
Pediatric Genetic Counselor at GGC
#
My mom caught me sneaking a bottle of lavender body lotion into the shopping basket and put it back on the shelf. "We spent ten thousand dollars on your gene grafts," she said. "You've already got healthy skin."
"You crossed me with a bunch of turnips." Teens with glossy hair and perfect teeth smiled at me from the racks of fashion magazines. I blew at a few strands of my own wiry frizz. Stupid turnip hair. "Radhika's mom always buys her the silky pear shampoo."
"We've gone through this already," my mom said. "Your body makes its own vitamins, you don't need fancy shampoo."
"Does that mean I can have ice cream for dinner?"
"No."
What was the point then? Last week, on my seventh birthday, my dad had told me about all the gifts they had given me. Healthy skin. Strong bones. Sharp eyes. It was Sleeping Beauty, the fairy gene-mother edition. What about a beautiful voice? A talent for dance? Bottles of insect repellent cascaded off the shelf as I reached for another lotion, and my mom gave me a warning finger. Forget the talent for dance. I'd have settled for not being a klutz.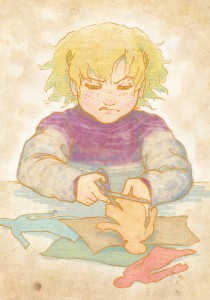 ---
To read the rest of this story, check out the Mad Scientist Journal: Summer 2013 collection.
---
Ellyn Patterson is a Pediatric Genetic Counselor at General Gene Centers, Incorporated. GGC Inc. believes that perfection is a choice.
---
Finale Doshi-Velez is a postdoctoral fellow at Harvard. She believes that happiness is a choice.
---
Leigh's professional title is "illustrator," but that's just a nice word for "monster-maker," in this case. More information about them can be found at http://leighlegler.carbonmade.com/.
Follow us online: