A review by Dawn Vogel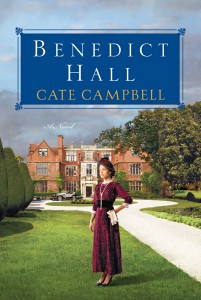 ---
Boeing engineers, female doctors, and high society collide in the 1920s Seattle of Cate Campbell's novel, Benedict Hall. Four very different points of view intertwine to tell the story of the Benedict family and their associates as they adapt to a changing world following the conclusion of the Great War.
Margot Benedict works as one of the few female doctors in 1920s Seattle. She is hounded by her brother, Preston, while the rest of her family, while not openly antagonistic, wish that she had chosen another field. Her allies include Blake, an elderly African American man who has served the family for many years, and Frank Parrish, a compatriot of Preston's during the War. When Frank Parrish arrives in Seattle looking for work, he becomes swept up in the friction between Margot and Preston. Though his association with the Benedicts gains him a position at Boeing, it also leads to his undoing.
Campbell paints a gorgeous picture of Seattle in earlier years. Those familiar with the area will recognize street names and neighborhoods, and perhaps even some of the businesses of yesteryear. Equally well-rendered are all of her characters, both those who are the point-of-view characters, and those who are secondary characters. From the high born Benedicts to their servants and other lower class people with whom they interact, every character in the book seems like a real person.
As a historian and a Seattle resident, I really enjoyed reading Benedict Hall. The little details really made the book come to life for me, and the plot was engaging and interesting from start to finish. Campbell's novel is well written, and would appeal to anyone interested in the history of Seattle or the history of medicine. It may also be of interest to fans of Downtown Abbey, covering a similar time period to the later seasons of that show.
Follow us online: