An essay by Judge Salvadore Ironfist, as provided by K.G. Jewell
Photograph by Dawn Vogel
---
(This story is also available in audio format at Toasted Cake.)
---
BE IT REMEMBERED on January 21, 2012, the Court held a hearing in the above-styled cause, and the parties appeared with counsel.
Background
Marlene Hazelwitch and Doreen Sneed were married on February 14, 2007. Marlene Hazelwitch's kitten, Snuggles, was, with assistance, the ring bearer in the ceremony. Ms. Sneed changed her name to Hazelwitch upon execution of said marriage. The Hazelwitches cohabitated in matrimony for four years, sharing jointly in property and income throughout that time.
During this time period Doreen Hazelwitch, with Marlene's encouragement, began studying the occult arts. After extensive investment of time, soul, and bodily fluids, Doreen joined a coven focusing on Discordian, or "prank" magic. Although the record is disputed, it appears that Doreen began utilizing Snuggles as a familiar shortly after her coven initiation. Doreen currently practices as a certified Hexwitch. Throughout the time period at issue, Marlene continued her traditional tarot practice.
On July 14, 2011, the Hazelwitches jointly initiated divorce proceedings, citing irreconcilable differences in demonic obligations. The parties have mutually agreed upon all matters relating to their separation except the disposition of Snuggles, and have beseeched the court to resolve that matter.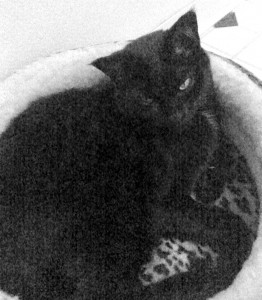 ---
To read the rest of this story, check out the Mad Scientist Journal: Spring 2013 collection.
---
Judge Salvadore Ironfist has presided over the 12th District Arcane Court for the last four decades. In that time, he has heard testimony on over a hundred disputes involving garden gnomes. He no longer eats carrots.
---
K.G. Jewell lives and writes in Austin, Texas. He has never lost a cage match. His website, which is rarely updated, is lit.kgjewell.com.
---
Dawn Vogel has been published as a short fiction author and an editor of both fiction and non-fiction. Although art is not her strongest suit, she's happy to contribute occasional art to Mad Scientist Journal. By day, she edits reports for historians and archaeologists. In her alleged spare time, she runs a craft business and tries to find time for writing. She lives in Seattle with her awesome husband (and fellow author), Jeremy Zimmerman, and their herd of cats. For more of Dawn's work visit http://historythatneverwas.com/
Follow us online: