I was going to launch yesterday, but I didn't want to steal the thunder of Monday's story. So now I can say: Mad Scientist Journal: Summer 2012 is now available on Smashwords! In addition to the last three months of fiction, we have some awesome original fiction from Emily C. Skaftun and our classified-ad-style flash fiction.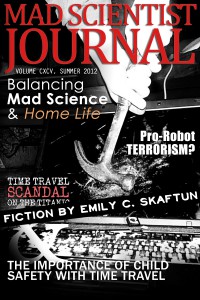 I'm playing around with the price, so at the moment it is $1.99. But if you use this coupon code you can get it for 99 cents: KY34H
I've similarly dropped the price of Spring 2012 to $1.99 and have a coupon code to bring it down to 99 cents:  ER69M
In theory, Smashwords will export this out to other ebook retailers like Amazon and Barnes & Noble, but since Mad Scientist Journal: Spring 2012 went out a month and a half ago, the only place it has appeared outside of Smashwords has been Apple's iBookstore.
If spending money on the ebooks isn't your thing, but you still want to support Mad Scientist Journal, you can also add us to your books and/or review us over at Goodreads for either Spring 2012 or Summer 2012. More than your money, we could do with your time. At this point Mad Scientist Journal suffers more from obscurity than lack of money. If you love getting fiction from us, help us boost the signal.
Follow us online: