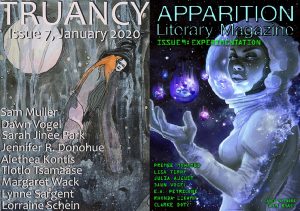 It's only the beginning of 2020, but MSJ alums have already had a number of short fiction out this year!
Jennifer R. Povey's "The Men Who Go Under the Ground" is available at Curious Fictions.
The new anthology Witches, Warriors, and Wyverns contains stories from Dave D'Alessio, Ali Abbas, and co-editor Dawn Vogel.
The most recent issue of Eye to the Telescope includes poetry from S. Qiouyi Lu, Tais Teng, and Dawn Vogel.
Rhonda Eiskamp and Dawn Vogel have a story and a poem in issue 9 of Apparition Literary Magazine.
Lorraine Schein and Dawn Vogel have stories in issue 7 of Truancy Magazine.
Follow us online: