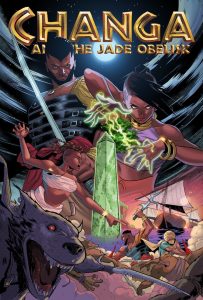 There are a couple of cool comic book projects we've got our eyes on at Kickstarter right now!
The first is for the first issue of Changa and the Jade Obelisk. This comic book is based on Milton J. Davis's Changa's Safari, part of the Sword and Soul book series. The characters and plot both look super awesome, so we're hoping this project funds and paves the way for many more!
We're also interested in the Ma'ari series of paranormal LGBTQIA friendly YA comics, also seeking funding (for their third issue) on Kickstarter. This series is about Italian witches investigating a murder and features queer characters.
Both of these Kickstarters end in early February, so check them out soon!
Follow us online: