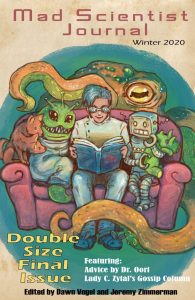 Disaster photography, mental health assistance from unlikely sources, and talented velociraptors. These are but some of the strange tales to be found in this book.
Mad Scientist Journal: Winter 2020 collects thirteen tales from the fictional worlds of mad science. For the discerning mad scientist reader, there are also pieces of fiction from Maureen Bowden, Amanda Cherry, Sam Crane, Madison Estes, Larry C. Kay, K. Kitts, Fiona Moore, George Nikolopoulos, Mere Rain, Darren Ridgley, dave ring, J. Rohr, Holly Saiki, Connor Sassmannshausen, Alyssa N. Vaughn, Chris Walker, and Cliff Winnig. Readers will also find other resources for the budding mad scientist, including an advice column, gossip column, and other brief messages from mad scientists.
Authors featured in this volume also include Joachim Heijndermans, Genevieve McCluer, Nick Morrish, Cory Swanson, Arnout Brokking, Franko Stephens, Megan Dorei, Judith Field, Rain E. Day, Holly Schofield, Blake Jessop, Michael M. Jones, Andrew K. Hoe, Han Adcock, C. R. Anderson, E.D.E. Bell, Andy Brown, James Cummins, Lillie Franks, Joan Hudak, Alexander Nachaj, Edward Punales, Angelica Rosenthal, Sophie Sparrow, Johnny Townsend, DJ Tyrer, Lucinda Gunnin, and Sean Frost. Art provided by Leigh Legler, Luke Spooner, Errow Collins, Scarlett O'Hairdye, America Jones, and Justine McGreevy.
Buy it now at:
Amazon (Kindle, Paperback)
iBooks
Follow us online: