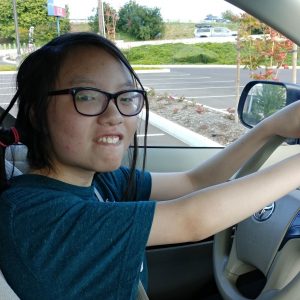 We've got a whole bunch of exciting news about fiction from our alumni, plus a great piece of news (non-fiction) from one as well!
We've previously talked about Kickstarters by the folks at TO Comix Press, and they've got another one running currently, which ends December 12th. This time around, it's Wayward Kindred, and one of the authors involved is H. Pueyo, an MSJ alum who frequently works with TO Comix Press.
Jonathan Ficke's story, "Excerpts from the Audio Notes of Jim Dennath, P. (Eldritch) E.," has been translated into Estonian. If you're an Estonian reader, you can check it out here!
Kayleigh Taylor (pictured), who was our youngest author in I Didn't Break the Lamp, has an update on her driving (which we talked with her about in her interview)! Her dad, Calvin, tells us: "Kayleigh started taking an anti-anxiety medication at the beginning of summer, and her seizures have stopped. She's been given permission to practice driving, which has increased her father's anxiety, but Kayleigh herself is handling it just fine. She's spent the summer independently studying math, reading, and writing, because "I'm going to be a Junior this year, Daddy, and it's going to be a lot of work." I say "independently" because she has no human tutor, though I suspect Peachy is secretly helping her. She's also busy participating in a special needs cheerleading team where, in addition to being one of the athletes, she is the Board's communications coordinator." Way to go, Kayleigh!
Follow us online: