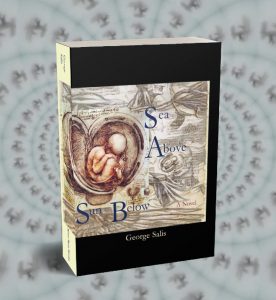 Today, we're chatting with MSJ alum George Salis, who has a new novel, Sea Above, Sun Below coming out from River Boat Books.
Upside-down lightning, a group of uncouth skydivers, resurrections, a mother's body overtaken by a garden, aquatic telepathy, a peeling snake-priest, and more. Sea Above, Sun Below is influenced by Western myths, some Greek, some with biblical overtones, resulting in a fusion of fantastic dreams, bizarre yet beautiful nightmares, and multiple narrative threads that form a tapestry which depicts the fragility of characters teetering on the brink of madness.
DV: Tell us a little about yourself and your writing background.
George Salis: I'm a Swiss-Greek-American bibliophile and, by natural extension, a linguaphile who has just come out with his first novel, Sea Above, Sun Below.
I first started writing with any serious literary intent about halfway through college. Also, I started reading novels seriously around that time, after having ditched fantasy and other genre work in high school in order to read science-popularizing books. My nascent ambition was simply to write a story and then another and another. Of course, as momentum built, I became distracted by the external concerns of the writing world, wanting to be published in popular journals, obtain awards and residencies and an MFA, etc. Thankfully, these distractions did not last too long, and I soon realized how circumstantial if not totally meaningless most of them are.
My focus came back totally to the words themselves when I discovered the vast world of buried books and neglected authors. I learned that the work of these writers is usually much better than what people are told to read by The New York Times and other mainstream echo-chambers. It's often the case that these neglected authors write works that are entirely devoid of the distractions named above and more, thus they are pure and fresh and stimulating. And so, in communion with writers such as Rikki Ducornet, Joseph McElroy, Wendy Walker, João Ubaldo Ribeiro, and many others, I write with freedom of intellect and imagination. Words are now my world.
DV: What was the inspiration for your novel?
GS: There was a kaleidoscope of inspirations, both before I wrote the novel and during, so it's difficult to pinpoint one. I could potentially break it down into two chief mandalas, as it were: Icarus and Adam/Eve. In a way, my novel is a roundabout interpretation of those myths. But myths by nature do not exist in vacuums. The fall of Icarus echoes the fall of Satan which echoes the fall of Man which echoes the fall of Finnegan which echoes the recurrent falls of the skydivers in my novel. Most of these connections and more can be found within or between the stories that make up Sea Above, Sun Below.
DV: Your novel pulls together a lot of disparate elements. What do you consider the glue that binds them all together?
GS: I believe everything is connected. Considering everything is made of atoms, this is a scientific fact. But there are also more esoteric connections between things. Phenomena that might put the chaos into chaos theory. With this in mind, the structure of Sea Above, Sun Below features stories within stories, but even more than that, stories beside stories, connected on a thematic and genetic level, the science of aviation and ancestry, the science of nature. There are three main parts, but depending on how you count, there are about ten tales that weave into each other to form a tapestry. My inspiration for the structure can be traced to The Thousand and One Nights and Cloud Atlas, to name a couple of examples.
From an interpretative standpoint, a lot more connections can be projected by each unique reader.
DV: What is the coolest thing about being an author?
GS: I love to write because I love living in a world of words and the act of writing itself almost regularly brings epiphanies both large and small—revelations related to words, story, coincidence, and more. It feels great to exorcise my mind of obsessions and dreams, to literally have a hand in their birth, raising them into something beyond the nascent mental form they once existed as. This is the almost solipsistic joy that comes from writing, although I'd like to think that such joy is manifest on the page and can be shared with readers.
And speaking of readers, it's also wonderful to see how they are responding to my novel on Goodreads (see here). Some people compare my writing to Borges or Ballard or Rushdie while others say I shirk all influences. I love seeing how readers interpret the prose and the work as a whole in their own unique and overlapping ways.
DV: What are you working on next?
GS: I'm over 130,000 words into an encyclopedic novel titled Morphological Echoes. I've been working on it for about three years and I have a few more years of work ahead of me. It's a book that contains a universe of stories, connected across time and space by the rearrangement of schizoid atoms, the transmutation of the laws of physics. It's a polyphonic, multilinear, omni-temporal epic with thematic and syntactic echoes, taking place in 1940s Japan, 9/11 New York, medieval France, ancient Egypt, Neolithic prehistory, and more, with a broken family at its kaleidoscopic core. The novel begins with a myth, a truth: the moon gives birth to a boy, and when he grows weary of life on the landscape of his mother, he yearns for a strange planet called Earth. After quarreling with his mother over the course of years, she eventually concedes with sadness, and she breathes in with the elasticity of a balloon, causing the moon boy to sink with her surface, and she breathes out, a supernal sigh that sends him on a trajectory straight toward the Earth….
Follow us online: