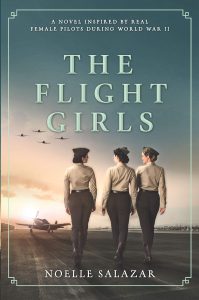 When I first got a copy of The Flight Girls by Noelle Salazar (Mira, 2019), the author warned me that some of the initial reviewers hadn't really liked that this was a romance novel "disguised" as historical fiction. My perception of the story, however, is that this is a historical fiction novel with a romantic subplot. And while it isn't a work of speculative fiction, it's a wonderful novel following the career of one of the WASPs–the Women's Airforce Service Pilots–during the years preceding and following World War II.
The main character, Audrey, begins as a flight instructor for the U.S. military in Hawaii in 1941. If you're familiar with the history of the United States' involvement in World War II, you won't be surprised to learn that her time there ends after the attack on Pearl Harbor late that year. But after a period of time spent mourning the loss of friends and colleagues, Audrey signs up to ferry planes for the U.S. military as a part of the WASPs program. Along the way, there are friendships, love, and loss.
The Flight Girls covers a piece of history that has not received much attention as of yet, but Noelle Salazar is doing her part to end that neglect. The women flying planes during World War II, when male pilots were fighting overseas, contributed much to the war effort. Their story will be of interest to those who want to learn more about women's contributions to history and little-known pieces of World War II's history. The book is widely available online and in many retail locations.
The author provided us with a free copy of this novel in exchange for review consideration.
Follow us online: