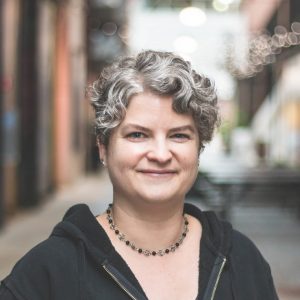 Today, we're talking with E.D.E. Bell, author and publisher, who has a story in I Didn't Break the Lamp!
DV: Tell us a bit about yourself!
E.D.E. Bell: I am a fantasy author and small press editor in Ferndale, Michigan, just outside of Detroit. I arrived here by a winding road, leaving my career in government-related engineering work to do something I think is really important to our collective and individual growth and healing: create and promote art. I enjoy running our small press with my partner, best friend, and spouse–Chris Bell, and with the support and patience of our three children and resident cat. As a vegan and an often-thinker, I like to write in ways that either inspire compassion or challenge our views on harm, repression, and violence. While I've always enjoyed big epic fantasy, I've developed a real passion for short fiction. It is a tremendously powerful art form.
DV: What inspired you to write "Duality" for I Didn't Break the Lamp?
EDEB: The idea of imaginary creatures was very inspiring to me, and rather than big adventures or meaningful friendships, I gravitated immediately to some sort of psychological insight. There were just a lot of layers to that concept, and I really enjoy fiction that can be interpreted different ways. When I wrote down the idea of knowing what someone else was thinking, my first question was, would the friend be a reliable narrator, if you will, or unreliable? In that moment, the idea of both clicked in, and from there the story just started to pour out in what I admit were very satisfying ways. Once that happened, I started to chuckle at myself how deeply "me" this story actually is. My stories often involve split worlds, conflicting identities, or the burden of not living one's truth. So, yeah, I have issues. I know. A fun side note (another layer!): as someone who has worked with imaginary numbers in math and electrical engineering, imaginary numbers are essentially a duality to their real counterparts, that we have defined in order to understand it. Oh, I could go on.
DV: The idea of "dual friended" as you present it in your story has some parallels to the idea of an angel and a devil on ones' shoulders, but also the riddle of one entity always telling the truth and their counterpart always lying. Do you think the dual friends are more like the former, the latter, or something altogether different?
EDEB: Engineers (even former engineers) never answer a straightforward question with a straightforward answer ("yes and no" is our refrain), and the way my brain has always functioned (or not), everything works on layers and facets and dimensions. I especially love when a story is written such that a reader can interpret it as they will. I think you've provided two very interesting interpretations, and I think there are many more. (Like, I'm thinking of a few major ones.) I'd love for the reader to decide what the dual friends mean to them, or what they might mean to our narrator. Or if they were even … real.
DV: Your narrator is also an artist. Were the pieces they create inspired by real world artists?
EDEB: I have always viewed writing as art (hence the name of our press) and so those lines, like many lines for me, are blurred in my mind. That said, the pieces were not inspired by visual art as they were by concepts of secrets and burdens. Once this story started forming in my mind, I landed quickly on the idea of visual art, because all the other elements of the story are inherently non-visual, and even more so, they are hidden. Imaginary friends, secrets, truth, and lies. The opposite, er, the duality to that, was the idea of those concepts being not just visual, but hugely and publicly visible. This, of course, could also be viewed as a metaphor. One thing about my writing is I love to create on many layers, and almost everything I do is designed to be viewable in facets. Honestly, my mind is a complicated place!
DV: If you had an imaginary friend growing up, what was their name, and what were they like?
EDEB: You know, I didn't consider this until you asked it, but my parents told me I had two imaginary friends when I was very young. As my memories of them are vague, but I'm sure that they were quite complex, I will leave them in their plane of existence and not try to pull them out by giving them an inadequate description. But if they had a piece in writing this, well, hello!
DV: What's on the horizon for you?
EDEB: We have had a very busy year! We've published a paranormal road trip, a ghostly thriller, a middle-grade high fantasy, a middle-grade adventure, and now a gorgeous new graphic novel set on Kickstarter (which concluded in July). There are three projects really close to my heart these days. The first, A Spatial Surprise, is a sci-fi novella written by 12-year-old Symthasree Sarojini Koganti that I hope will inspire hope and creativity in all of us. Next, Five Minutes at Hotel Stormcove, a collection of multi-genre short stories and flash fiction featuring, well–you, Mad Scientist Journal's own Dawn Vogel. And then, most personal to me, is my own fantasy novella serial Diamondsong. Dime's story focuses on themes such as non-violence and identity, so it's a quiet and subtle story in a time where things can be very loud. It has a small but loyal following, but I'd love for more people to give it a look. We're currently running a Kickstarter for that serial. All the links to these titles on retail sites are posted at atthisarts.com, and signed copies of Diamondsong can be ordered at edebell.com.
Follow us online: