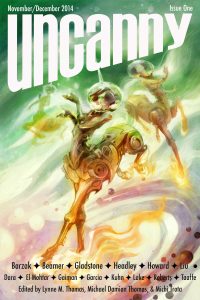 While our publication is winding down, there are plenty of other great speculative fiction publications that are still going strong. One of those, Uncanny Magazine, is currently crowdfunding their sixth year of publication, including raising their rates to pay authors more for their short fiction. Uncanny Magazine is dedicated to publishing fiction from diverse authors, and has also published Disabled People Destroy Science Fiction, with Disabled People Destroy Fantasy coming soon!
Another magazine, Strange Horizons is also crowdfunding their next year of publication, which will be their twentieth year in business! In addition to their primary magazine, Strange Horizons also publishes Samovar, which publishes English-language translations of stories that were originally published in other languages (along with the original stories). This is another magazine focused on diverse authors and new voices in the genre, also definitely worthy of your support!
A number of our MSJ alums and friends of the magazine have been published in the pages of Uncanny Magazine and/or Strange Horizons, or are otherwise involved with their publication. We're glad to see both of these magazines flourishing, and we hope you'll help out with their Kickstarters to ensure many more years of awesomeness from them!
Follow us online: