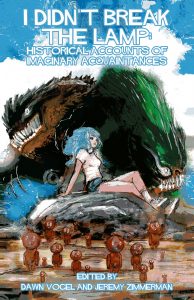 We've received contracts back from all of our authors for I Didn't Break the Lamp, so we're now pleased to announce the table of contents for the anthology. This list is alphabetical by author's last name, not indicative of the order of the stories as they will appear in the anthology.
"Duality" by E.D.E. Bell
"The Boy Atop the Bed" by Jade Black
"Meltwater" by Die Booth
"Jack in the Matchbox" by Maureen Bowden
"When I Helped" by Veronica Brush
"Seen" by Jacob Budenz
"The Last Cory" by Sam Crane
"A Lost and Lonely Fire" by Matthew R. Davis
"See Me" by Julian Dexter
"Ludwig" by Sam Fleming
"My Student's Obsession" by Troy H. Gardner
"Of Rorschach Worlds and Little White Shoes" by Kiki Gonglewski
"Payment is Coming Due" by Cindy Gunnin
"Touch the Earth" by Neil James Hudson
"End User Agreement" by Blake Jessop
"Wild" by Vivian Li
"Exit Interview" by Tucker Lieberman
"Carbon Transfer" by K. K. Llamas
"Games of Angry Children" by Christine Lucas
"Nimble" by M. Lopes da Silva
"Fortress of Ash and Bone" by Ville Merilainen
"The Voice" by Jennifer R. Povey
"Monster Spray" by Lizz-Ayn Shaarawi
"The Tutor" by Kayleigh Taylor
"Across My Effervescence" by Jieyan Wang
"State VS Salmah" by E. R. Zhang
We've already begun editing the stories, which will continue for a couple more weeks. Then we'll do a proofread of all of them, and then we'll be well on our way to having a book!
Follow us online: