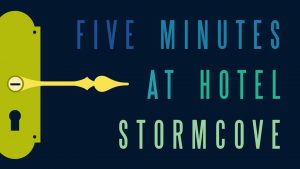 Several MSJ alum have published new short fiction and novels recently!
Patrick Hurley's story, "The Memory Bank & Trust," recently appeared at Cosmic Roots and Eldritch Shores, with some fantastic art accompanying it!
Atthis Arts' Five Minutes at Hotel Stormcove anthology contains stories from a number of MSJ alum, including Stewart C. Baker, Robert Dawson, M. Lopes da Silva, George Nikolopoulos, Jennifer Lee Rossman, Holly Schofield, Dawn Vogel, and future alum (and publisher) E.D.E. Bell. All of the stories take place in the same locale, but they cover different portions of this unusual hotel's history.
George Nikolopoulos and Dantzel Cherry have stories included in the 2018 Best Vegan Science Fiction and Fantasy.
Diana Parparita published the second book in her Toadmilla Wartly series in March, which you can find here.
MSJ alum Q. Parker has a sci-fi novel, Nova EXE, coming out in June!
Follow us online: