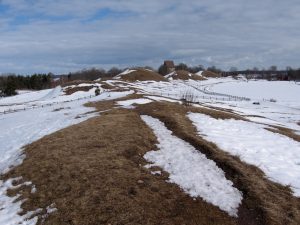 A team of scientists has been reassessing Viking burials from the settlement of Birka in east-central Sweden, and in doing so, have determined that one of the Viking warriors buried there was a high-status female warrior. Thanks to osteology and genetic analysis, coupled with archaeological analysis of the grave goods, this team is reaching new conclusions about Viking society and gender roles.
The burial, known as Bj.581, was first excavated in the late nineteenth century, and the archaeologists doing the work at that time assumed that all of the warrior burials were men. Only when the remains were examined in the early twenty-first century was the error identified.
The team working on this project have published several articles that are available online (without the need for access to academic journals). Their article in the American Journal of Physical Anthropology discusses the genomic findings, while their article in Antiquity discusses some of the public debate over this find.
Follow us online: