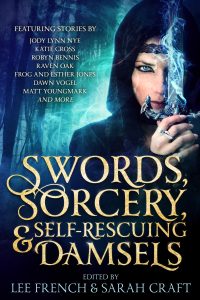 Our MSJ alum have a lot of new things to be proud of!
Nathan Crowder has recently self-published his super creepy horror novel, The Lictonwood. He's also self-publishing some of his previously published stories via Kindle. We especially love "Deacon Carter's Last Dime," but you can find several other stories at his Amazon page.
MSJ alum Blake Jessop and Wendy Nikel both have stories in the forthcoming Grimm, Grit, and Gasoline anthology from World Weaver Press.
Both MSJ editors, plus our occasional artist and layout wizard Matt Youngmark have stories in Swords, Sorcery, & Self-Rescuing Damsels, just out from Clockwork Dragon.
Finally, J.C. Stearns' story, "The Woman from Kisthene," which original appeared in Fitting In: Historical Accounts of Paranormal Subcultures, won the Mythic Beasts Studio Medusa contest, and you can now read it online here.
Follow us online: