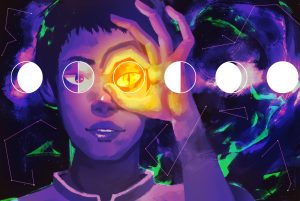 As we've done with several of our previous anthology, I Didn't Break the Lamp will include several pieces of interior art. Today, we're featuring one of our interior artists, America Jones!
We've been working with America ever since we met them and their partner, Errow Collins, at GeekGirlCon. Since then, they've created loads of vividly colored art for Mad Scientist Journal, like the cover for Summer 2017. But they've also done beautiful work in black and white for our anthologies and in darker hues, like the cover of Fitting In.
Here are a few of our favorite pieces by America Jones!
"Permanent Exhibition" by Dr. J. A. Grier
"Why the Village of Shiminpur is Empty" by Tamoha Sengupta
"Introduction to the Journal of Interplanetary Lycan Studies, Volume 1, Issue 1" by S. Qiouyi Lu (pictured to the left)
"Waiting" by Eddie Newton
"It Landed in the Woods, My Head" by Leslie J. Anderson
If you like America's style, you're likely to enjoy what they come up with for I Didn't Break the Lamp! Also, don't forget that if you back our Kickstarter and our Patreon, you'll get a set of postcards featuring all of the interior art pieces!
Follow us online: