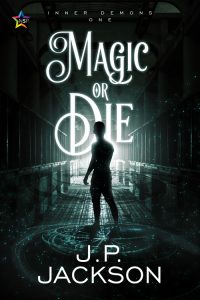 J. P. Jackson's novel Magic or Die (NineStar Press, 2018) is a novel that explores the dark side of how people with enormous and uncontrollable magical power might be handled by governments and society. It's an urban fantasy novel with compelling characters and fast-paced action throughout.
The main character, James Martin, is pulled back into teaching at the Center for Magical Research and Development by his former employer who reminds him that his contract still requires his service for one more year. The small class he's presented with is five of the most powerful and most uncontrollable magically talented adult students the world has ever seen. James finds that things at the CMRD have changed for the worse, and he takes it upon himself to get his students out from under CMRD's thumb.
Despite being told in the first person, the novel has something of an ensemble cast, though a couple members of the ensemble are less fleshed out than others. Jackson does a great job of making you root for his protagonist, whether it's in fighting the corrupt CMRD or James's burgeoning romance.
As one bit of warning, this book ends on an enormous cliffhanger. There's a sequel planned for 2019, but the release date isn't available yet. So while I encourage people to check out Magic or Die if you like grittier urban fantasy with a gay protagonist, be warned that you may finish the book by shaking your fists and wondering when the story will conclude!
The author provided us with a free copy of this novel in exchange for review consideration.
Follow us online: