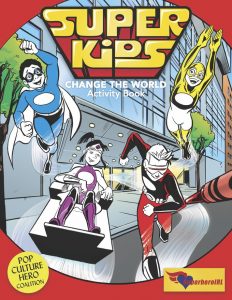 Today, we're featuring a couple of Kickstarter projects that benefit kids with mental health needs and other special needs.
The first is the Super Kids Change the World activity book. This coloring and activity book is set up like a comic book, and it helps hospitalized kids learn to deal with mental health challenges that come along with their physical health challenges. The Kickstarter is to help get the books in the hands of kids who need them, but backers can also get copies of this book for themselves!
The second is a project from Young Heroes Undefeated, which "aims to extend the discourse of self-empowerment and confidence to the youth of the special needs community through positive representation in comics." They also work to provide accommodated travel for special needs kids and their families. Their Kickstarter seeks to produce comics based on real special needs kids, and the proceeds from the sales of those comics help to pay for the accommodated travel.
Follow us online: