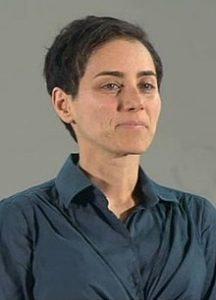 As we lead up to the release of Battling in All Her Finery, we're featuring a handful of women in science from history. Check back in the coming weeks to learn more about early women scientific leaders, and check out Battling in All Her Finery when it releases on October 16!
Maryam Mirzakhani was an Iranian mathematician who was the first woman and first Iranian to receive the Fields Medal, the most prestigious award in mathematics. Her specialties were in geometry and moduli space, and her accomplishments included proof that "complex geodesics and their closures in moduli space are surprisingly regular, rather than irregular or fractal." She was a believer in the beauty of math, and often combined artistic doodles with mathematical formulas while she was working on solving problems.
You can read more about Maryam Mirzakhani at Wikipedia.
Follow us online: