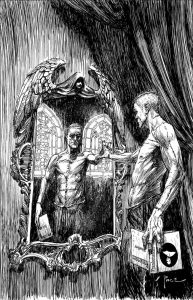 Here at Mad Scientist Journal, we're big fans of Mary Shelley's Frankenstein. And what mad scientist wouldn't be, right? Since 2018 is the 200th birthday of this essential work, a group of authors and artists are creating a printed zine to celebrate the impact that Frankenstein has had on their lives.
With cover art by Richard Pace (pictured), the zine will be printed in black and white and include essays, illustrations, and comics, from the perspective of modern authors and artists.
The Kickstarter runs through October 18th, with planned delivery of the zine in December 2018.
Follow us online: