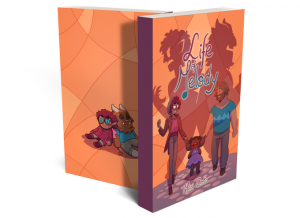 If you like cute graphic novels with queer romance and constructed families, you might want to check out Life of Melody on Kickstarter!
Life of Melody is written by Mari Costa, the author of the webcomic Peritale. The story is about a fairy godfather and a beast raising a human child and deals with the influence of magic, love, and free will on one's destiny. The target audience is teen readers and older.
The Kickstarter runs through October 3rd, and it's well on its way to reaching its goal. So check it out and pledge if you want to enjoy this graphic novel!
Follow us online: