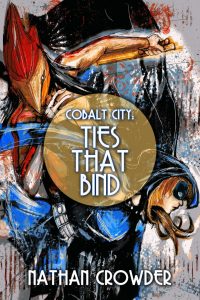 When we're not editing Mad Scientist Journal, we are often writing our own works, many of which are set in the shared Cobalt City Universe. This fall has been a busy period for Cobalt City authors, with several books seeing print for the first time through DefCon One Publishing and other venues. And their authors are also MSJ alumni!
Nathan Crowder is the originator of Cobalt City, and he's had stories appear in several of our anthologies and on the website. Ride Like the Devil was an early Cobalt City book that went out of print for a while, but now it's back with a fantastic new cover! If you like high stakes motorcycle races, mysterious happenings, and foul-mouthed evolved pandas, you'll enjoy Ride Like the Devil.
Another book by Nathan Crowder is the pictured Ties that Bind, which also features art by one of our regular artists, Luke Spooner. This book has a darker tone, as Bantam and Velvet team up to take down a human trafficking ring.
Nathan Crowder has another Cobalt City book due out October 9th, which is Cobalt City: Resistance. This book chronicles the reaction of the super hero world to the election of an anti-super hero pundit and radio star. You can learn more about this book at Nathan's website.
And finally, Erik Scott de Bie, who appeared in That Ain't Right, is re-releasing Eye for an Eye as a stand-alone book in early October. In this book, Cobalt City's best-known super hero, Stardust, deals with the arrival of a powered woman who treads a fine line between hero and villain, and her presence threatens to upend his entire life. This one will be available after October 2nd.
And of course, if you want to read more in the Cobalt City universe, check out the Kensei series by co-editor Jeremy Zimmerman and the other Cobalt City books by Crowder, de Bie, and Zimmerman, as well as those by co-editor Dawn Vogel and editorial assistant Amanda Cherry!
Follow us online: