We've been busy here at Mad Scientist Journal, and so have some of our alumni! From short stories to YouTube to awards, check out what folks have been up to!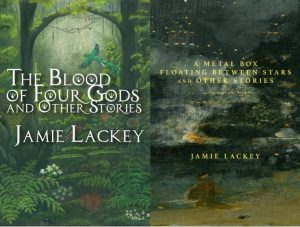 Jamie Lackey has recently published two short story collections with Air and Nothingness Press. Both A Metal Box Floating Between Stars and Other Stories and The Blood of Four Gods and Other Stories can be found at the Air and Nothingness webstore.
Sacred Smokes is a short story collection from Theodore C. Van Alst, Jr., containing linked stories about growing up Native American in a gang in Chicago.
Darrell Z. Grizzle has published a short story collection entitled I Never Meant To Start a Murder Cult, which includes his story, "The Lazaretto Ghost," which originally appeared in the Summer 2017 quarterly of Mad Scientist Journal.
Thomas Diehl has launched a YouTube channel where he talks about science topics from media, called Fiction Science.
James Jensen's flash fiction piece, "Skip to the End of the Story, Y/N?," appeared at Daily Science Fiction in May, and is a brilliantly short read!
A number of MSJ alumni have stories in The Society of Misfit Stories Presents … Volume II, from Bards and Sages Quarterly. Within its pages, you will find longer tales from Rhonda Eikamp, Calvin Demmer, Aaron Moskalik, Stewart C Baker, and Dawn Vogel.
Three MSJ alumni will have their MSJ stories reprinted in the 2018 Write Well Award anthology! "Introduction to the Epic of Centipidus" by Hamilton Perez, which originally appeared on the website, along with "The Drunk God" by Jule Owen and "Strange Attractor" by Rhonda Eikamp, both of which originally appeared in quarterly editions of Mad Scientist Journal, were all selected for this final year of the award and anthology. Check out the full list here!
Follow us online: