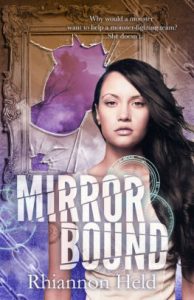 Mirror Bound (2018) is a stand-alone urban fantasy novel by MSJ alum Rhiannon Held. Breaking from the tropes of this genre, the story follows Verity, a non-human sidekick to a team of monster-fighting mages. Bound to the leader of that team by another mage, Verity struggles between belonging and independence.
Verity comes from a mirror realm, and denizens of that realm are invading the real world, also referred to as the "grounded" realm. She is bound to Dakota, a mage who leads a small team of other mages who are working to stop the monsters that are coming through from the mirror realm. When a new pair of mages arrive to help their cause, Verity finds herself far nearer to the center of attention than she's comfortable with.
Telling this story from the perspective of the non-human sidekick of a team of monster hunters is a fun twist on what might otherwise be just another urban fantasy novel. Verity is an amazingly deep character, filled with great quirks and flaws, and seeing this "case" from her point of view really makes this a different sort of read. And Held's storytelling is always enjoyable.
If you're looking for urban fantasy with a twist, I think you'll enjoy Mirror Bound!
The author provided us with a free copy of this novel in exchange for review consideration.
Follow us online: