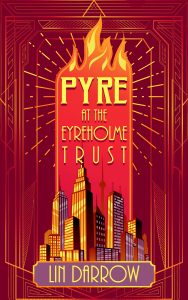 Our interview for today is with author Lin Darrow, whose story "Caro Cho and the Empire of Light" will appear in Battling in All Her Finery!
DV: Tell us a bit about yourself!
Lin Darrow: My name is Lin Darrow! I teach 19th Century fiction by day and write queer noir by night. I also love puppets, opera, and I occasionally review theatre!
DV: What inspired you to write "Caro Cho and the Empire of Light" for Battling in All Her Finery?
LD: One of the bullet points in the call for stories mentioned a CEO, and I was really drawn in by the idea that the theme of female leaders could be expanded beyond swords and sorcery. Not that I'm knocking swords and sorcery—I love those genres, and I'm super excited to read the stories that fall under those labels in the finished book—but the positioning of CEO next to dragon-slayer as possibilities really intrigued me, and I started wondering about how to make something like a CEO "fantastic."
The result was Caro Cho, billionaire prosthetics-tech genius and inventor of the modern hologram. She ended up being sort of like Jessica Rabbit meets Bruce Wayne in actual practice.
DV: Your story has a delightful sci-fi pulp vibe that approaches noir. Did that play into the way you named characters or set up scenes in your story?
LD: Totally! Most of what I write could be considered genre mash-ups or remixes, usually between those genres which reimagine the past and those that imagine the future. For Caro Cho, I wanted to try my hand at doing a cross between science fiction and 1950s noir.
My basic thought was, what would noir look like in the 30th century? I ended up whipping up a mystery that tried to combine elements of noir—the femme fatale, who here is also the lead detective, and urban mystery—with elements of speculative fiction—a future setting where everything from cosmetics, prosthetic limbs and advertising billboards are animated by holograms and projections. So I definitely wanted that slick, gritty vibe of classic noir, but paired with the possibilities of future technology.
Caro Cho is a name I've had in my back pocket for a long time, and I'm glad I finally got to use it.
DV: Do you have plans for more Caro Cho stories?
I think the title itself—"Caro Cho and the Empire of Light"—does have a sort of episodic feel to it, and it's fun to think up other titles for other Caro Cho adventures. But I don't have any current plans for more Caro Cho stories. If the right opportunity presented itself, I wouldn't say no. I think it would make a fun podcast in the vein of something like the Juno Steel series if I could ever figure out the technical side of that process.
DV: What's on the horizon for you? 
Right now I have two ongoing projects! The first is Shaderunners, a 1920s adventure comic about bootleggers in a greyscale world who steal bottled colour, which can be read at www.shaderunners.com.
The second project is a queer noir novel that was just released on July 4th! Pyre at the Eyreholme Trust is a queer fantasy noir story set in Temperance City, where magic is strictly regulated, but warring gangs with magic powers still rule the streets. The main story is both magic heist and romance, as Eli Coello—bigender jewelry salesman with unregistered ink magic—is blackmailed into helping Duke Haven—the leader of a low-level fire-magic gang—in his efforts to get out of a dirty contract with a rival gang (one that specializes in paper-magic). They fall in love over the planning of a bold "reverse-counterfeit" heist! You can buy that here: https://t.co/hbySc4lTk3.
Thanks, Lin!
Follow us online: