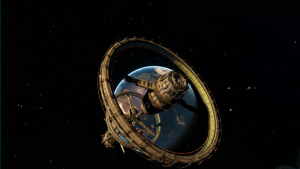 Our interview today is with Leora Spitzer, who wrote "Breath and Roses" for Battling in All Her Finery!
DV: Tell us a bit about yourself!
Leora Spitzer: My name is Leora Spitzer, and I live in St. Louis, MO. I love waterfalls, intersectional feminism, arguing about Harry Potter, apple pie with vanilla ice cream, and great literature. I collect books, earrings, and stuffed animals.
DV: What inspired you to write "Breath and Roses" for Battling in All Her Finery?
LS: I have recently been researching the history of labor organizers overcoming tremendous odds to improve life for workers in America. Separately, I came across the theme of an all-powerful company that controls access to oxygen in a few different sci-fi stories and TV shows. I asked myself how anyone could oppose a company that literally controlled their ability to breathe. "Breath and Roses" grew from my attempts at answering that question.
DV: Your story includes a poem from the early twentieth century. Can you tell our readers more about the poem without giving away too much of the story?
LS: "Bread and Roses" is a poem about women strikers in Massachusetts in 1912, a couple centuries before the events of my story happen. While the poem describes a very particular time and place, it encapsulates the broader message that people need and deserve both the basic necessities that keep us alive and the dignity, respect, and joyful moments that make life more than just existence. I believe that that message is a universal one that will last long after humanity, like my characters, has left Earth behind.
DV: Are the characters in this story ones you hope to revisit in the future?
LS: I don't have anything specific planned yet, but I did have a bunch of backstory for side characters that didn't fit in with narrative, so I might revisit them to expand on that more.
DV: What's on the horizon for you?
LS: I am working on a post-apocalyptic sci-fi novel set on Earth. It is also my goal to write a biography of Pauline Newman, the woman my protagonist is very loosely based on in "Breath and Roses." I've also got a couple of fantasy short stories in progress.
Thanks, Leora!
Follow us online: