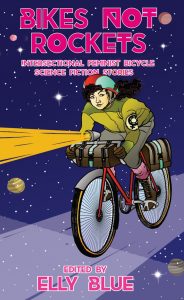 If you're looking for a collection of sci-fi short stories about bicyclists, you've come to the right place! Elly Blue Publishing is currently running a Kickstarter for the fifth book in their feminist bicycle science fiction series, this one titled Bikes Not Rockets. Not only does it sound like an awesome project and collection, it also features Julia K. Patt, an MSJ alum. Previous volumes in this series have also included Jessie Kwak, another MSJ alum. And you can get some of the older collections through the Kickstarter.
They also mention upcoming books in the series, including volume 6, which features DRAGONS, and volume 7 (for which they're currently taking submissions), which will feature trans and non-binary characters.
If this book sounds like something you'd enjoy, pop on over to their Kickstarter before August 8th to pledge!
Follow us online: