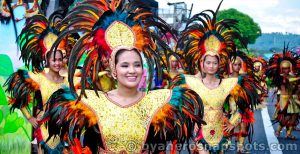 Today, we're completing our interview with author D. A. Xiaolin Spires, whose story "The Weeping Bolo" will appear in Battling in All Her Finery. The first half of her interview is here.
DV: Your story includes a piece of epic poetry widely believed to be originally orally propagated in Old Bikol language that had been translated into and inscribed in Spanish (as the oldest existing written epic fragment) and translated into other languages (including English), as well as back to Bikol and also to Tagalog for your story. Can you tell our readers a bit more about this poem and the translation process?
D. A. Xiaolin Spires: Yes, this was an interesting—and somewhat agonizing—experience, but the end result of that translated poem excerpt is so beautiful and rich that it was all worth it!
First, about the epic poem: The Ibálong is an old Bikol epic poem about legendary heroes Baltóg and Handyóng. The oldest existing written form of it is a fragment in Spanish, first printed in 1895, as the concluding portion of an article on Old Bikol, "Breve noticia acerca del origen, religión creencias y supersticiones de los antiguos Indos del Bicol," by Fray José Castaño, O.F.M.
What I find interesting is that this is an old poem widely believed to be passed down orally in the Bikol language, but the oldest surviving written version is in Spanish and includes a reference to Hercules. Another interesting aspect is that in the poem, the heroes Baltóg (who is supposed to be from Botavara and of the race Lipód) and Handyóng are not actually from Bikol, according to the oldest existing fragment in Spanish, and their stories may have been used as propaganda by Spanish colonizers to assert the prestige or superiority of the colonizers (see Espinas, p. 123). According to the epic poem fragment, Baltóg and Handyóng are thought to hail from India (Bharata-varsha) and are of white "Aryan tradition" (see Espinas p. 55) as conceived then. (Perhaps in some sense like the Scandinavian background of the Old English epic Beowulf.) (Again, see Espinas, p. 123.) In the history and analysis of the poem, there is a lot to be said about identity, political propagation, and the transformation of racial categories throughout history. The epic poem has been since translated from Spanish back to Bikol, as well as translated into other languages. That the protagonist of my story, Carmel Agbisit, fights these monsters again is an attempt to reorient and retell the story from a very different viewpoint.
(Sources: Merito B. Espinas, Ibálong: The Bikol Folk Epic Fragment, Manila: UST Publishing House, 1996.)
In terms of the broad appeal and propagation of the poem today, the epic poem lives on in many ways, including in a grand public festival in the streets of Legazpi City, Albay, Philippines in August, as well as in comics and dramatic productions such as musicals.
About the translation: Originally, I was interested in using some sparse lines from a Tagalog translation of the epic poem in my story. Just a few lines showing the protagonist, Carmel, reciting the piece.
I found a Tagalog version of the poem online and contacted the administrators of the website that had posted the Tagalog translation, but unfortunately, I didn't hear back from them. It was an agonizing wait—wondering what I should do if I didn't get access to those lines, should I simply strike them from my story? It would really take away from the tale, I think. I didn't know how long it would take for them to get back to me (and to this day still have not yet heard back). I decided to reach out to a good friend, Jeff Peterson, who is a specialist in Southeast Asian resources, to ask him for suggestions and possibilities. He connected me with Juan Fernandez, who possesses skill and expertise in Spanish and Tagalog languages, and he was gracious enough to provide an alternate and incredibly beautiful Tagalog version that he penned/translated, which also retains aspects of rhyming through his use of ABCC/ABCC rhyme. He was also generous enough to include a direct Tagalog-English translation as well. In my opinion, the new version he provided was not simply a better version (for my needs and in general), but also fit the story impeccably in its poetic sensibilities and is an original, never-yet-seen translation. I was overjoyed when I first read his translation and not-so-secretly happy the website administrators never got back to me.
The question about languages in the Philippines is an interesting one because there are multiple versions of the epic poem in Tagalog, which is the official national language of the Philippines (alongside English) and is the language in which Carmel must learn the epic poem in the story. She must recite the epic poem in Tagalog not because it is how the poem was once or originally propagated, but because it is the official version she must train in. But, Carmel speaks Ilocano as her native tongue and the legend is actually a Bikol epic (with the oldest fragment written in Spanish), so there's a lot about languages going on. Looking at the history of the Philippines, there was a lot of discussion about national languages and which "ethnicity" gets to be represented as emblematic of the nation through the designation as an official language. My story attempts to comment on that, as well. For more on national languages and the Philippines, see:
Gungwu, Wang. Nation Building: Five Southeast Asian Histories. Institute of Southeast Asian Studies, 2005 (especially pp. 62-63).
Gonzalez, Andrew B. FSC. Language and Nationalism: The Philippine Experience Thus Far. Quezon City: Ataneo de Manila University Press, 1980.
Utley, James Andrew. "Language, Nation and Empire: The Search for Common Languages during the Second World War." M.A. Thesis. Department of History, University of Hawaiʻi, May 2014 (especially pp. 54-90).
Follow us online: