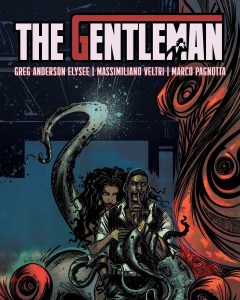 There are two fantastic comics projects on Kickstarter right now that we thought our readers might be interested in. They're both already funded, so at this point, you'd just be getting in on the sweet rewards (and possibly helping them reach some stretch goals).
The first is for the first issue of The Gentleman, which revolves around an investigator looking into a Lovecraftian horror. This comic is from the creator of Is'nana: The Werespider, which we mentioned previously. So if you're also a fan of Greg Anderson Elysee's work, you should definitely check out the Kickstarter for The Gentleman. This one ends tomorrow (May 31), so be sure to get over there quickly!
The other project is a graphic novel for the comic Aceblade by Danny J. Quick. This one offers more traditional comic book flavor, with heroes and villains, but also promises a character who grows and changes over time, rather than stagnating. You can check out the Kickstarter for Aceblade here! This one ends Friday, June 1st, so you'll want to make a decision quickly on it as well!
Follow us online: