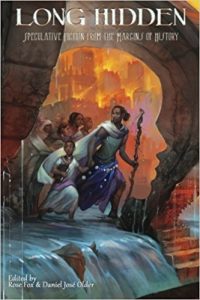 Long Hidden (Crossed Genres Publications, 2014), edited by Rose Fox and Daniel José Older, is a collection of 27 short speculative stories of people who have been marginalized by history. Within its pages, you'll find stories of many different races, religions, sexual orientations, gender identities, and more.
As a historian, I loved to see the different ways that the authors played with pieces of history, some of which were familiar to me and others which were not. "Medu," by Lisa Bolekaja, told the story of African-American cow herders taking their cows to a market town, but realizing that they will need to find a place to escape pursuers who are hunting them down for past deeds. When they name the town where they will be heading to find safety, it was a town in Kansas that I'm familiar with, which was settled by former slaves and their descendants. On the other hand, "Each Part without Mercy," by Meg Jayanth, featured a Tamil character with the power to visit dreams. While it was very easy for me to comprehend this story, it featured characters from an ethnic group and a place that I knew very little about prior to reading the story.
Other stand-out stories for me were "Marigolds" by L. S. Johnson and "The Heart and the Feather" by Christina Lynch, both of which were set against a backdrop of European history, the former during the days leading to the French Revolution, and the latter in an Austrian castle some time earlier. There were also several stories dealing with the aftermath of American slavery in a variety of ways; my favorites here were "Collected Likenesses" by Jamie Hatley, "Nine" by Kima Jones, and "Find Me Unafraid" by Shanaé Brown. I was also charmed by Nicolette Barischoff's "A Wedding in Hungry Days," telling the story of a marriage between a Chinese ghost and a living boy.
With 27 stories to choose from, it's hard to pick a favorite. While there were some stories that I didn't love, I found the collection to be a good one overall, and many of the stories mentioned here, along with others that I didn't mention specifically, will stick with me for some time.
If you enjoy alternate histories, stories of marginalized peoples, and speculative fiction, or any of these three things, you're likely to enjoy Long Hidden. The book is out of print, and there doesn't seem to be a way to get it in ebook currently, but if you're able to get a copy, it's well worth the read!
Follow us online: