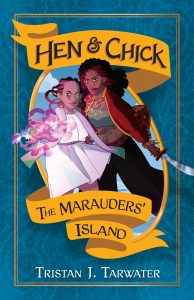 The Marauder's Island by Tristan J. Tarwater (Back That Elf Up, 2016) is the first book in the Hen & Chick series. If you're a fan of young adult stories with heart, action, adventure, and revenge, you'll find plenty here and leave wanting more. The book follows the story of a young mage, Azria, who is reunited with her mother, a notorious pirate, who promised to return for her daughter when Azria was done with her mage training. Her mother's ship, the Hen & Chick, is in need of a new mage for their ship. And while mages typically take care of somewhat mundane tasks on the ship like desalinating seawater for drinking purposes, Azria's mother has a larger project in mind for her daughter–raising the fabled Marauder's Island from where it was sunk many years ago by a very powerful mage.
The bulk of the story revolves around Azria and her mother, as they build the relationship that they have not previously had, but also work together as the captain of a ship and her mage. The many other characters on the Hen & Chick are diverse, and though you only get a small taste of most of these characters, it's wonderful to see a largely non-white and predominately female ship crew. The book also includes tantalizing descriptions of the food that the characters eat that often left me curious about these dishes and their basis in real foods.
Though The Marauder's Island is listed as the first book in the Hen & Chick series, there's no indication of when to expect the next book. Needless to say, I'll be anxiously awaiting its release!
Follow us online: