This week, we're sharing some Kickstarters featuring Mad Scientist Journal alumni and other publishing news from our alumni!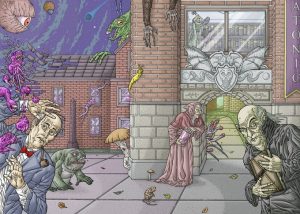 The Welcome to Miskatonic University Kickstarter by Broken Eye Books will feature stories from MSJ alum Gwendolyn Kiste and MSJ co-editor Dawn Vogel! Gwendolyn's story will be in the primary anthology that this Kickstarter is funding, while Dawn's is slated for the stretch goal second anthology, It Came From Miskatonic University! We hope to share more about this Kickstarter soon! Their funding period ends April 2, so be sure to check them out and become a backer if this anthology is of interest!
Atthis Arts is publishing an anthology called As Told by Things, which will be a collection of stories told by objects. Four of our MSJ alumni already have stories accepted for this anthology, which closes to submissions today. In this anthology, you'll find stories by Robert Dawson, Evan Dicken, Alanna McFall, and Holly Schofield! The Kickstarter for this anthology wraps up on March 29th, and you can check it out here!
Finally, Azure Keep is funding their anthology, Tales of Ruma, a collection of stories inspired by Greek and Roman mythology, on Kickstarter, and MSJ alum Jonathan Ficke has a story in this anthology! This one only runs until March 19th, so check out Tales of Ruma here!
Jonathan Ficke has other fantastic news–one of his stories was selected as the third place story in a recent quarter for Writers of the Future! You'll be able to read his story when volume 34 of the Writers of the Future series is published (in about a month).
Authors Candida Spillard and Liam Hogan have stories in Steampunk Universe, edited by Sarah Hans, and featuring diverse characters who are disabled or neurotypical.
Holly Schofield has a story called "Home on the Range" in the January/February 2018 issue of Analog magazine. You can read more about it on her blog!
Calvin Demmer has a story called "Keep the Beat" in Horror Addicts' anthology, Crescendo of Darkness.
Frequent MSJ contributor Maureen Bowden has a story called "Christina of the Feathers" in Freeze Frame Fiction's inaugural issue, which also features art by MSJ artist Luke Spooner!
MSJ alum Iris Wright has launched an online literary magazine called Orris Root that focuses on the intersections between science and art. You can learn more about it (and submit stories) at the Orris Root website.
Finally, if you're in the Seattle area, the entire editorial staff of MSJ (Jeremy, Dawn, and Amanda) and two of our alumni, Erik Scott de Bie and Nathan Crowder, will be reading from their Cobalt City stories at Friday Afternoon Tea on Thursday, March 22nd, from 6-8 p.m.! You can find out more about this here!
Follow us online: