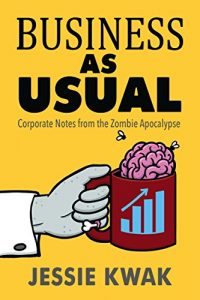 Our mad scientist alums have had a very productive summer. Here are a few more things that have been published or accomplished recently!
S. Qiouyi Lu's story, "What Could Be," appeared at Daily Science Fiction.
Escape Pod produced Caroline M. Yoachim's story, "Four Seasons in the Forest of Your Mind," in an audio version.
Calvin Demmer will have stories in issue 3 of Switchblade Magazine, the Halloween issue of Ravenwood Quarterly, and Mummy Knows Best from Quantum Corsets.
The Flash Fiction Press has published S. E. Casey's story, "The Faithful."
Christine Lucas's story, "Vengeance Sewn With Fey Cord," which appeared at The Future Fire, is one of the nominees for the 2017 WFSA Small Press Award.
Jessie Kwak has released Business as Usual: Corporate Notes from the Zombie Apocalypse, which includes a story that will appear at Mad Scientist Journal late this year.
Frequent MSJ artist Luke Spooner has a piece in Broken Eye Books' latest anthology, Ride the Star Wind: Cthulhu, Space Opera, and the Cosmic Weird.
Follow us online: