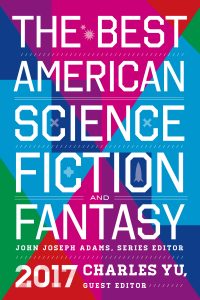 Our MSJ alums (and one of our co-editors) have been up to all sorts of writing excitement recently! Here's a sampling of what we've heard about!
Steve Toase has a story in the Janus issue of Pantheon Magazine.
Gwendolyn Kiste's novella, Pretty Marys All In a Row, is due out from Broken Eye Books this fall.
Caroline M. Yoachim has a new story in Fireside Magazine called "Until the Day We Go Home." She also had two stories shortlisted for the 2017 Best American Science Fiction and Fantasy anthology, one of which made the final list and will be published in the anthology!
Erin Sneath has a story in Enigma Front: The Monster Within.
Jamie Lackey has recently published her collection of fourteen short stories, The Blood of Four Gods, through Air and Nothingness Press.
John McColley is serializing his fantasy novel called Breaking the Word through his Patreon.
Co-editor Dawn Vogel's short story, "Miasma," was one of the winners of the 2017 Write Well Award, and will appear in the associated anthology!
Follow us online: