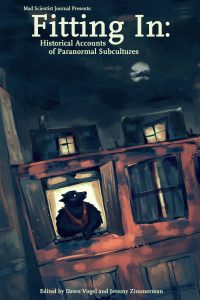 As we work on getting Utter Fabrication wrapped up and out the door, we've got an exciting giveaway on Goodreads for our anthology from 2016!
We're giving away five copies of Fitting In: Historical Accounts of Paranormal Subcultures. This book collects 28 stories told from the point of view of supernatural creatures living at the fringes of society.
If you'd like to have a chance to win a free copy, check out the giveaway on Goodreads! You have until July 31, 2017, to get your name entered!
Follow us online: