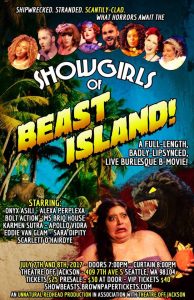 Mad Scientist Journal is thrilled to be one of the sponsors for "Showgirls of Beast Island", a full-length, badly lip-synced, live burlesque B-movie! The production will be in Seattle on July 7th and 8th, and is produced by (and features) one of our MSJ artists, Scarlett O'Hairdye! Those purchasing VIP tickets will get a goodie bag that includes an offering from Mad Scientist Journal.
Here are the full details!
Tickets on sale now! http://showbeasts.brownpapertickets.com/
Unnatural Redhead Productions in association with Theatre Off Jackson is proud to bring you Showgirls of Beast Island! A full-length, badly lipsynced, live burlesque B movie! Queer characters! Spurious nudity! Ridiculous horror! Continuity errors! This show has everything you love about 50's and 60's sexploitation horror movies with added burlesque and none of the misogyny!
The Scintillating Showgirls of Seattle are the city's premier burlesque troupe, and they're excitedly preparing to depart for a highly-anticipated tour of Australia. Tragedy (and lightning) strikes their plane, however, leading to an emergency crash-landing on a small tropical island somewhere in the Pacific! Though filled with bright sun and beautiful beaches, the island is hiding a dark secret, and showgirls start disappearing one by one. Will they discover the island's secret before it's too late? Come find out in Showgirls of Beast Island!
Featuring burlesque performances by Bolt Action, Sara Dipity, Apollo Vidra, Alexa Perplexa, Briq House, Eddie Van Glam, Karmen Sutra, Onyx Asili, and Scarlett O'Hairdye!
Sponsored by Mad Scientist Journal and GetJuliet!
July 7th and 8th, 2017 – Doors 7:00pm – Curtain 8:00pm
Theatre Off Jackson – 409 7th Ave S Seattle, WA 98104
Tickets $25 Presale – $30 at door – VIP Tickets $40
http://showbeasts.brownpapertickets.com/
21+
Theatre Off Jackson and the producer strive to be as accessible and inclusive as possible. Please contact us if you have any questions.
Follow us online: