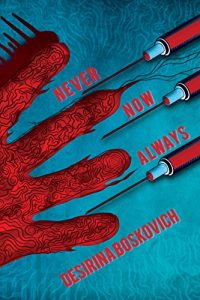 Never Now Always by Desirina Boskovich (Broken Eye Books, 2017) is a young adult novella that explores memory, time, and family. Lolo is one of the "rapt children," young people who are studied by aliens known as the Caretakers. The Caretakers keep these children in their labs because they are interested in learning more about how humans process memories. During one of her memory sessions, Lolo recalls that she has a sister, and after that moment, she rebels against the Caretakers' normal system in a desperate search for her missing sister.
Never Now Always, told mostly from Lolo's perspective, but occasionally from her sister's perspective, is a dizzying tale fraught with confusion from the protagonists, but written clearly enough for the reader to tease out bits and pieces of what is going on. It is the sort of book that can be a very quick read, but also one that would likely stand up well to multiple readings, which may make some of the plot elements even more clear.
This book is billed as a young adult novella, but some of the themes within the book, like family and identity, might make it seem a bit more like a middle reader book. However, the ending of the book (which I don't want to give away) convinced me that this book is much more appropriate for young adult and adult readers.
Never Now Always is available for pre-order at Amazon or the Broken Eye Books website, and will be released on June 27, 2017.
The publisher provided us with a free copy of this publication in exchange for an honest review.
Follow us online: