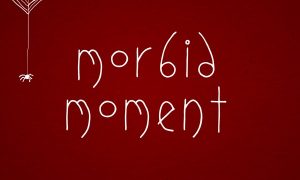 Do you like spooky stories? Have you lost entire hours reading about monster lore and bizarre unsolved mysteries on Wikipedia? Are you super-fascinated with this one serial killer, but don't really tell people because you don't want them to think you're some sort of secret psychopath? It's okay, friends. The crew from Morbid Moment totally understands.
Morbid Moment is a biweekly podcast where occasional-MSJ artist Katie Nyborg (AKA Stick) brings a creepy subject to the table and regular-MSJ artist Leigh Legler (AKA Red) provides snarky commentary. Together, they aim to explore ghost stories, monster myths, strange happenings, and supernatural phenomena in a casual, factual, and respectful way.
So far, they've covered a legendary wolf attack on Paris, a female killer who used personal ads to lure her victims, a girl possessed by a friendly spirit, a frozen ghost ship, and how to kill vampires.
You can find them on iTunes, Google Player, Castbox, and SoundCloud–just search for Morbid Moment. They have a Patreon where you can help them improve their recording equipment and get cool behind-the-scenes exclusives. They welcome comments and topic suggestions at morbidmomentpodcast@gmail.com.
Enjoy!
Follow us online: