We've been remiss in posting about other things that our alumni have been up to, so here's a recap of some of the news we have to share!
The Centropic Oracle, which hosts audio versions of short stories, includes a number of MSJ alumni among their early stories published. You can hear audio versions of stories by Liam Hogan, Jennifer R. Povey, and Richard Zwicker here. Check them out this summer for another story by co-editor Dawn Vogel as well!
The Memory Thief, Sarina Dorie's Japanese steampunk novel is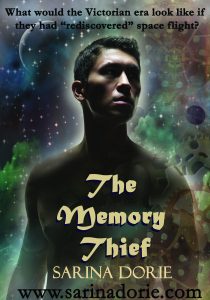 now available for 99 cents on Kindle and is free at Barnes and Noble.
Frequent contributor Judith Field has joined the staff of Red Sun Magazine as their science fiction editor.
Lucinda Gunnin has recently published Seasons of Horror: A Short Story Anthology.
Bobby O'Rourke's story "For Goodness Sake" was selected as the second place story in Albedo One's 2015 International Aeon Award Short Fiction Contest. The story will be published later this year.
Bobby Riahi has had two new stories published recently. You can find "Whiskey the Clown" at Dime Show Review and "Killa Watts: The First A.I. Rapper" at Sci Phi Journal.
J. Lee Strickland has had a number of stories published recently:  "Da Capo al Fine" won first place in the 44th Jerry Jazz Musician Short Fiction Contest. Newfound published "The Turning of Pesh Thanat". And "Chorni Diamanti" appears in Jenny Magazine, the literary magazine of Youngstown State University.
Follow us online: