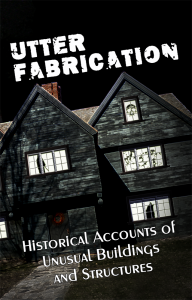 We will be creating an anthology titled Utter Fabrication: Historical Accounts of Unusual Buildings and Structures. It will be a collection of fictional stories about haunted houses and other weird places. For this anthology, our pay will be 2¢/word.
We are particularly looking for stories from authors who are underrepresented in fiction: people of color, LGBTQ, non-Western religions and cultures.
Each story is written from the perspective of someone who has encountered this strange location. Like our regular magazine, this narrator will also have a bio. Be certain that your story meets these requirements:
❏ 1st person
❏ 500-8000 words in length
❏ Focuses on a strange building or place
❏ Not a reprint
Here are some ideas that we pitched when we made our Kickstarter, but this is meant to be inspirational and not definitive.
Haunted houses, obviously.
Space stations poised at the edge of an anomaly.
Towns missing people for no clear reason.
Espresso stands that travel through time.
Malls that function as dimensional crossroads.
A cursed painting in an otherwise empty field.
Unusual sculptures that seem to come from out of this world.
Structures or ruins left behind by indigenous peoples. (But please don't stoop to "Indian burial ground" or similar tropes. Seriously, don't be that person.)
DO NOT send us poetry or screenplays.
Submissions should be in Standard Manuscript Format and sent via Submittable between March 1 and March 31. As with our regular submissions, we are asking for exclusive first worldwide electronic and print rights for one year. Multiple submissions are okay, simultaneous submissions are not.
For more information about how we normally do business, check out our Submissions page.
Follow us online: