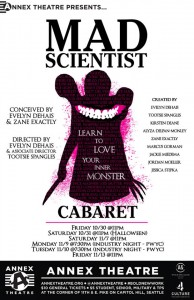 Dawn and I recently discovered that there is a MAD SCIENTIST CABARET that will be starting close to Halloween. We won't be able to go, but we encourage anyone who is near Seattle to check it out! We've seen at least some of the performers in other shows, and we can only assume it will be great. And it's a MAD SCIENTIST CABARET. It's our moral obligation to promote this.
Here's the description from the show:
A devised work conceived by Evelyn DeHais and Zane Exactly
Directed by Evelyn DeHais with Associate Director Tootsie Spangles
Friday 10/30 @11pm
Saturday 10/31 @11pm (Halloween)
Saturday 11/7 @11pm
Monday 11/9 @7:30pm (Industry Night – PWYC)
Tuesday 11/10 @7:30pm (Industry Night – PWYC)
Friday 11/13 @11pm
Annex Theatre. 1100 E Pike St. Seattle, WA 98122
Tickets: http://tinyurl.com/qa6q2md
Facebook Event: https://www.facebook.com/events/1626583090963859/
Seven nightmarish creatures escape from a laboratory and embark on a madcap adventure into the weird and wonderful world of Mad Science! Bound by their own bizarreness, they toil through titillating torments, physical feats, and extended experiments on each other as they seek to discover the truth to their own monstrosity… and humanity.
Through a special blend of comic mayhem and visual spectacle they take the audience on a jam-packed journey into insanity that walks the line of horror and humor. Clowning, dance, puppetry, and more come together in this playfully audacious piece.
Created by the Ensemble:
Kirsten Deane
Alyza Delpan-Monley
Zane Exactly
Marcus Gorman
Jackie Miedema
Jordan Moeller
Jessica Stepka
Follow us online: