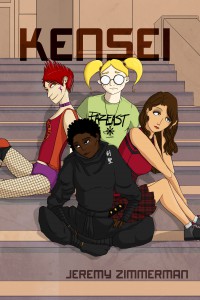 Hi, it's Jeremy here. I'm breaking one of my rules for the site. Normally I try not to use Mad Scientist Journal to promote my own stuff, but I'm making an exception.
My young adult superhero novel, Kensei, is available for the first time as a stand alone book with a print edition. In close competition with the Kickstarter we did last year, this book is probably my proudest creation. I figure since all of the money I make off of this will be rolled back into Mad Scientist Journal, it's worth posting here.
Here are your options for obtaining your very own copy:
* Goodreads Giveaway: I'm giving away five signed print copies! Winners will be selected December 25th.
* Patreon: Patrons who support my Patreon page at $5 or higher get immediate access to the ebook, as well as every other digital book I've put out either as myself or as Mad Scientist Journal. Those who are backing me on December 31st at the $10 will receive a print copy as well.
* Amazon: Available on the Kindle or in print. Those who order the print version will also receive the Kindle version at no extra cost.
* Other eBook retailers: Smashwords, Txtr, Barnes & Noble, Kobo, iBooks, Oyster, Scribd, Inktera
* Other Book Stores: Within six to eight weeks (so, around January) this should be available through regular book stores. It's unlikely to be on the shelves, but you can special order it.
Follow us online: