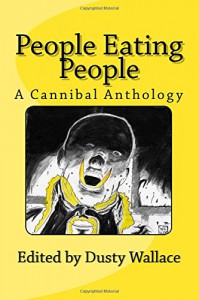 Mad Scientist Journal alumnus Dusty Wallace has some exciting news in the hopper!
First, his story "Shaundra the Watcher" will be in ARES Magazine Issue #2.  The magazine will be available in print or ebook at the end of this month. You can check out a sample of the story at http://www.aresmagazine.com/?page_id=440.
Second, he edited an anthology titled People Eating People – A Cannibal Anthology. It's a collection of stories from multiple genres, avoiding tropes like zombies and hillbillies. From the back:
"Come feast on a buffet of fiction. In these pages you'll find superheroes, fantasy, steampunk, corporate whistle-blowing, and a grandma passing down her 'secret family recipe.' Learn how to survive a famine. Haggle your way to better meat prices. 'People Eating People' will satisfy any reader's most ravenous fiction hunger."
If your appetite is piqued, you can check out the book on Amazon.
Follow us online: