A letter by an unnamed employee, as provided by T.J. Tranchell
Art by Katie Nyborg
---
Dear Mr. Myrbo,
You don't know me, but I know you. I'm an employee. That's why I won't sign my name to this letter. That would put my job at risk. You have to know how far you can go. I'm still figuring that out. What I know is that I still need this job. If I signed this, human resources would be on me faster than you earn a dollar.
For now, you will just have to live without knowing who I am. I'm sure I'll slip up somewhere and give myself away. Or I could lie and plant details to make you think I'm someone else. I could tell you the age of the prostitute you spent the night with on your last business trip to London, but since you don't even know exactly how old he was, that wouldn't help.
I know things about you and this company that an employee in my position shouldn't know. It disgusts me. Don't get angry yet. You'll burst a vein before we even get to the good stuff.
And don't for a second think this is blackmail. Other than my job, you have nothing I want. You can't properly bribe me since you don't know who I am.
Enough about me. Let's talk some more about you. I have a feeling you aren't convinced of my knowledge. Let's talk about March 27, 1995. Best day ever, right? How many people died that day? Seven? Early reports rumored deaths in the dozens, but from my research only seven people, including two children, actually died from your actions that day. Thousands more have died because of that Tuesday, but still, only seven.
Do you remember their names? Did you ever know them? Brad Irby is surely familiar. He's the one who sued you in 1993. Cost you a year of your life. A year well-spent, was it? Concocting revenge plots. Scenarios to get back at him and his wife for nearly ruining your life.
Did you have to infect his daughter, too? Or the Forshams next door? They'd only been married for six months. Did you know that? No, I think not. You are too narrow-minded a monster to consider the collateral damage. You shoot mosquitoes with bazookas.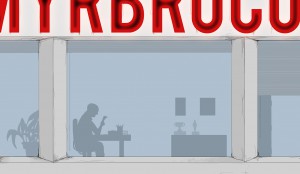 ---
To read the rest of this story, check out the Mad Scientist Journal: Winter 2014 collection.
---
Paul Myrbo, 63, founder of Myrbo Pharmaceuticals, was found dead from influenza complications Monday, Oct. 14, at his home in Malibu. Myrbo is survived by his former wife, Helen Myrbo Prentiss. A daughter, Shirley, has been missing for two after disappearing during a vacation in Brazil. Myrbo received his doctorate in virology from Princeton University. He will be interred during a private ceremony at Westwood Memorial Park in Los Angeles.
---
T.J. Tranchell is busy balancing life as a graduate student and teaching assistant at Central Washington University with being a husband to a beautiful woman and father to a rambunctious 8-month-old boy. He spends what little free time he has these days writing short stories; reading Stephen King, Joe Hill, and Neil Gaiman; watching horror movies; and teaching his son about professional wrestling and comic books.
---
Katie Nyborg's art, plus information regarding hiring her, can be found at http://katiedoesartthings.tumblr.com/
Follow us online: