An essay by Dr. Mark Mathis, as provided by Jeffrey Wooten
Art by Luke Spooner
---
On the first plane I sat by a young lady that could have passed for the granddaughter I never had. She was excited; it was her first trip to Europe. She asked me what I did for a living and I told her. "Perfume salesman."
She laughed and didn't believe me, so I reached into my briefcase and pulled out a small vial–one of seven that I'd carefully hidden–and gently I removed the rubber stopper. "Smell," I said with a smile.
She spent several seconds trying to catch the scent from the caramel colored liquid in the glass tube but finally gave up. We didn't talk much after that.
I stayed in London, Paris, Madrid, Istanbul, Tel Aviv, and Bangladesh. I used all my wealth, which was small, and all my credit, which was large, and I traveled the globe. I invited as many people as possible to smell my perfume. None of them could, and for good reason.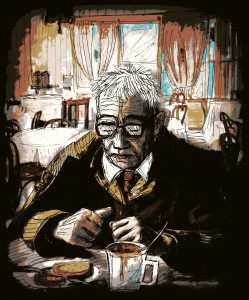 The big reveal is here at last.
---
To read the rest of this story, check out the Mad Scientist Journal: Autumn 2013 collection.
---
Dr. Mark Mathis MD, MPH, was a researcher at the National Center for Emerging and Zoonotic Infectious Diseases (NCEZID). Dr. Mathis joined the CDC in 1980 shortly after graduating from the University of Maryland. He made numerous contributions during his three decades as a researcher, his main focus involving viral epidemiology.
Dr. Mathis left the CDC in early 2013 citing health issues. In July 2013 Dr. Mathis was reported missing. If you have any information regarding his whereabouts you are urged to contact the FBI.
---
Jeffrey Wooten lives in the southern United States with his wife and children. His work has appeared both in print and that magical space between computers known as the internet.
---
Luke Spooner a.k.a. 'Carrion House' currently lives and works in the South of England. Having recently graduated from the University of Portsmouth with a first class degree he is now a full time illustrator for just about any project that piques his interest. Despite regular forays into children's books and fairy tales his true love lies in anything macabre, melancholy or dark in nature and essence. He believes that the job of putting someone else's words into a visual form, to accompany and support their text, is a massive responsibility as well as being something he truly treasures. You can visit his web site at www.carrionhouse.com.
Follow us online: