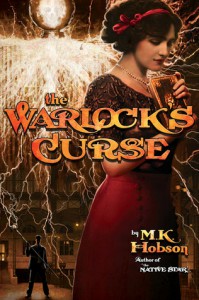 A review by Dawn Vogel
---
M. K. Hobson's third novel in the Veneficas Americana series, The Warlock's Curse, follows Will Edwards as he leaves his home in California for the promise of a job with Tesla Industries in Detroit. Set in the same alternate America as Hobson's previous novels, The Native Star and The Hidden Goddess, but taking place a little more than thirty years later, the story weaves many elements from the earlier books through its plot. While you could jump into this series with The Warlock's Curse without too much difficulty, it was fun for me to notice the details that tied back to the first two books.
In 1910, 18-year-old Will is anxious to put his extensive mechanical knowledge to work. He has been offered a job by Tesla Industries, but his parents are unwilling to let him take the position. A childhood friend of Will's, Jenny Hansen, concocts a plan that will get Will to Detroit while also helping her achieve her secretive personal goals.
A bit more to the dieselpunk side of things than the steampunk and magical technology flavor of the earlier Veneficas Americana books, Hobson weaves a rollicking tale of Will's journeys and experiences. While this book also contains some of the elements of romance that were prevalent in the first two books, the tone of the romance differs. Ultimately, this book is less of a romance than its predecessors, and ends on a note that implies that the next book in the series, The Unsteady Earth, will share in this trend.
As a historian, I really love seeing what Hobson will do with historical events and figures, and this book satisfied me on both counts. Although I would have personally loved to see more Tesla, keeping such an interesting historical figure as a background character allows Hobson's original characters to shine, rather than being overshadowed by her depictions of real people.
My main disappointment regarding the book was that things go very badly for Will, and do not resolve themselves by the end of this book. While I know that The Unsteady Earth is scheduled for release later this year, I found the cliffhanger ending a bit hard to stomach. Will was also a hard character for me to follow as the main character because I didn't identify with him at the beginning of the book. Right about the point where I was growing fond of him, his situation changed drastically. Having read Hobson's other books, I'm confident that things will wrap up in a satisfactory fashion by the end of the next book, but some readers may be similarly left with a bad taste over the last quarter of this book.
Follow us online: