An essay by Michael R. Burnes and Martin Hobbs, as provided by Mathew Allan Garcia
Illustration by Luke Spooner/Carrion House
---
They calmed the blaze that had consumed four lives at 4:03 a.m. on December 22nd, 2005. When they found him, he was hanging from a beam in his study, an extension cord tied around his neck. His neck was swollen around the cord itself, so it could not be seen beneath the folds of skin and flesh that had been pumped with blood left with nowhere to flow. In the autopsy report, the coroner found horizontal markings on his wrists indicating that Mr. Hobbs not only hung himself on the third floor of his apartment complex, but also slit his wrists beforehand. The coffee kettle was left burning on his stovetop, which firefighters found to be the source of the blaze. Neighbors stated they heard the whistling at around 10:30 p.m., but thought nothing of it. Mr. Hobbs said he was working on a manuscript for a novel regarding the prostitution business in Los Angeles. They thought he was working late, and went to bed without the slightest thought. When they awoke around midnight, the third floor of the complex was engulfed in flames. By the time firefighters put out the fire, the death toll had risen to thirteen.
A preliminary investigation of his apartment found nothing indicating motive. Family members, who admitted that they did not stay in touch as often as they should, claimed that Mr. Hobbs had a history of depression. Medical records confirmed this, although not to the extent that the family claimed. Most cases stemmed from life events: his divorce in '87, his mother's death in '95, etc.
The only thing of note in the investigation report regarding the state of his apartment was the fact that every single window and mirror in the apartment was broken. It was later discovered that a shard of glass from the windows had been used to cut the crude slits in his wrists, as traces of his blood were on the edges.
The manuscript was found two months later, when family went through Mr. Hobbs's things. It was found under a loose floorboard in a metal box under his bed. The heat of the metal singed many pages so that a few sections could hardly be made out, though many manuscript pages (all largely unedited), handwritten notes, newspaper clippings, and a small leather bound journal survived. Some pages were completely illegible.

When asked who would take the box, only his nephew, Michael, volunteered.[1] His research into his uncle's death, the notes, and journal entries, as well as sections of the unfinished manuscript, would later be published in a collection known as The Black Spot.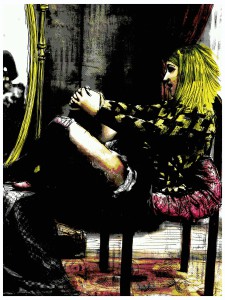 ---
[1] Michael R. Burnes, son of Martin Hobbs' sister, Jayden Burnes. At the time of Martin's death, Michael was only nineteen years old. The Black Spot was published in 2013.
---
To read the rest of this story, check out the Mad Scientist Journal: Spring 2013 collection.
---
Martin Hobbs was born in Los Angeles, California. Graduating from the University of California, Berkeley, with a Master's in Psychology, he began investigating the mass of suicides by escorts in downtown Los Angeles. He was working on a novel based on his discoveries prior to his untimely death. It it believed his investigation had something to do with it.
---
Mathew Allan Garcia lives with his wife in Hesperia, California. He has four dogs, as well as countless demons that he has yet to exorcise onto paper. His work can be found mostly in his head, as well as First Stop Fiction, and Mused Literary Review. He has been writing for as long as he can remember.
---
Luke Spooner a.k.a. 'Carrion House' currently lives and works in the South of England. Having recently graduated from the University of Portsmouth with a first class degree he is now a full time illustrator for just about any project that peaks his interest. Despite regular forays into children's books and fairy tales his true love lies in anything macabre, melancholy or dark in nature and essence. He believes that the job of putting someone else's words into a visual form, to accompany and support their text, is a massive responsibility as well as being something he truly treasures. You can visit his web site at www.carrionhouse.com
Follow us online: