Just thought I'd drop in with a quick mid-week post to share something with all y'all. Last night I got the laid-out cover for the next collection of Mad Scientist Journal. I liked it so much, I had to share it.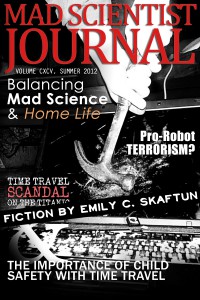 The photo is by Eleanor Leonne Bennett, the layout work is by Katie Nyborg. I'd like to say I offered insightful art direction, but really I just trusted them to know what they were doing, and they exceeded expectations.
I'm hoping to have the ebook available for purchase by the end of the month.
Follow us online: